"Welcome to Blue Cove Lake House
on beautiful Lake LBJ"
If you are looking for a lake house getaway in a park-like setting, with a commanding view of the open water, Blue Cove is the place for you.

This lake vacation home has all the features of a great lake house: Covered boat house with electric boat lift, jet ski ramps for two jet skis, open water views, swimming-fishing deck at the boat dock, 160 feet of gorgeous waterfront, hammock with lake view, boat launch close by, beautiful like-new home, lush landscaping and more.

Lake LBJ is one of the largest normally constant-level lakes in the U.S. and it provides some the best conditions for boating, jet skiing, water skiing and swimming.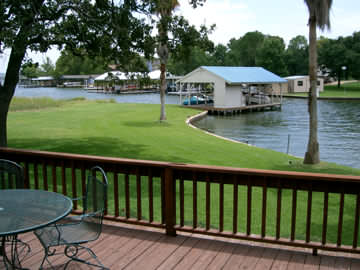 View from the Dining Room Window
A lush green lawn, a magnificent live oak shading the yard, and two palm trees add a tropical feel to this great vacation spot.

This attractive 3 bedroom, 2 bath Austin Stone home is immaculate, comfortably furnished and in like-new condition throughout. It sleeps up to 6 people in beds. The lake house is ideal for 2 small families or 3 couples.

The lake house is conveniently located on a beautiful cove on Lake LBJ in Granite Shoals about 50 miles northwest of Austin, 85 miles north of San Antonio, and 200 miles south of Dallas/Ft. Worth and 200 miles west of Houston.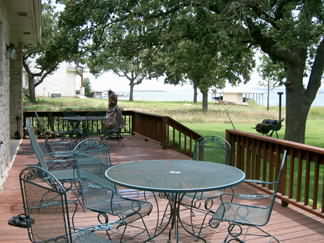 Deck Facing the Water
What a great place to hang out! This inviting deck overlooks the water and is the perfect place to sit and watch the activity on the lake. There is plenty of seating for everyone with two tables, 8 chairs, 2 chaise lounges and a park bench. A barbeque/smoker is handy for grilling the day's catch.


View from the Deck of the Lake House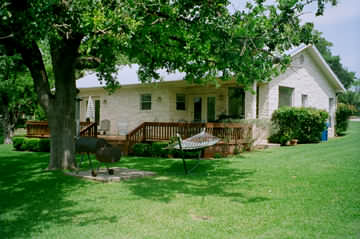 Want a great place to take a nap? What could be better than a hammock by the water? If you want more activity, there are horseshoes, a washer board, and a croquet set for your use.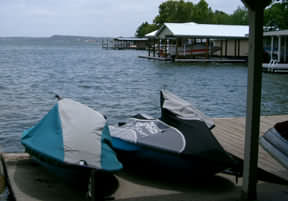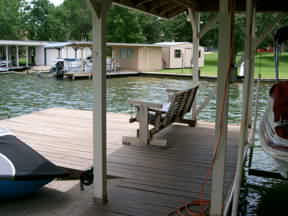 Open Water View from the Glider Swing on the Boat Dock
Bring your boat and jet skis! If you don't have a boat or jet skis, you can rent them locally. Put your boat up on the electric lift and be on the water in an instant. The jet ski ramp will hold two jet skis.

Maximum weight in boat lift is 3500 pounds. If boat is larger, you can tie up beside or pull in slip, but not lift.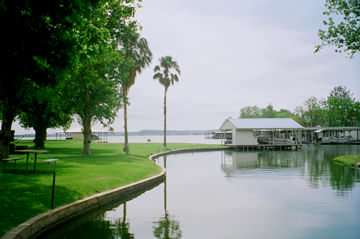 For great night fishing two underwater fishing lights really attract the fish to the boat dock. It is fun watching the fish swim in the lighted water at night.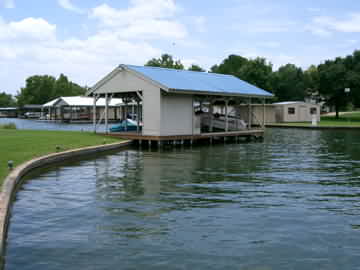 Boat Dock with Swimming/Fishing Deck
The boat house at Blue Cove has a million dollar view of Lake LBJ. Newly added lighting makes it very pleasant for evening fishing or just visiting with family and friends.


Boat House and Fishing/Swimming Deck

The deck at the boat house is the perfect spot for fishing, swimming and getting a great tan. The deck has two glider swings with great views.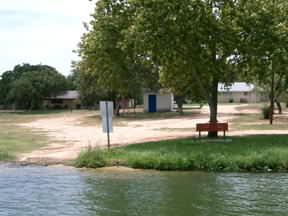 Neighborhood Park with Boat Launch
The picture above was taken from the boat house showing the boat launch at the neighborhood park a short distance away.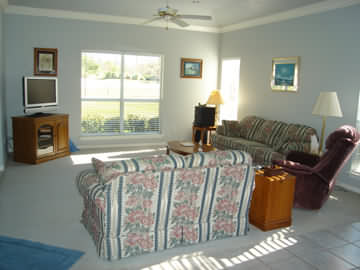 Living Room of the Lake House
The spacious living room is inviting with its soft blue/gray walls and attractive cove ceiling. A sofa, love seat and recliner provide seating for watching satellite TV or VCR/DVD movies. A large picture window and french doors provide spectacular views of the lake.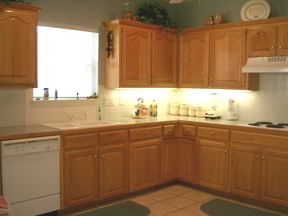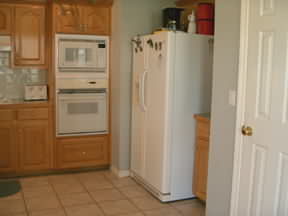 Kitchen of the Lake House
The large open kitchen is completely furnished with cookware, dishes, microwave, dishwasher and everything you need to prepare your meals and snacks while on vacation. Ample cabinets, ceramic tile flooring, and an attractive tile back splash make this area cheerful.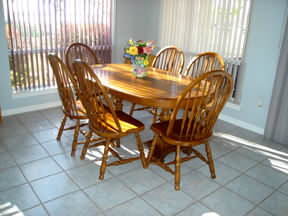 Dining Area
Two large windows frame outstanding views of the lake from the dining area.


View from the Dining Area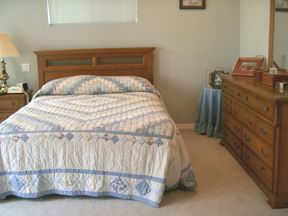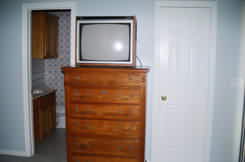 Master Bedroom
The master bedroom has a queen bed, dresser with mirror, chest of drawers and TV. French doors lead to the patio, and a wall of windows frame the picturesque setting of your own private view of the lake.

The master bath has a tub and shower.

All three bedrooms are carpeted and the remainder of the house has ceramic tile.

There are ceiling fans throughout the lake house.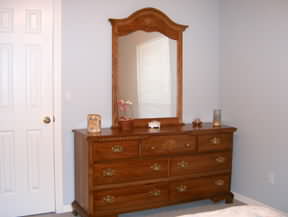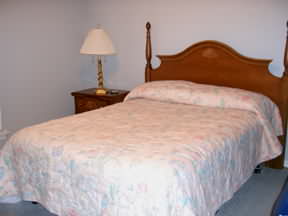 Second Bedroom
The second bedroom has a double bed, dresser with mirror and a night stand.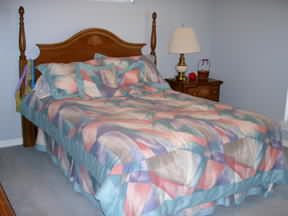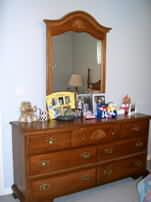 Third Bedroom
The third bedroom has a double bed, dresser with mirror and a night stand.

The hall bath has a tub and shower.

A utility room with a washer and dryer is provided for your convenience.
.
Amenities of Blue Cove Lake House:

Fishing and swimming from 160 feet of waterfront
Covered boat dock with electric lift for your boat
Two jet ski ramps
Waterfront swimming / fishing deck at the boat dock
Two underwater lights at the boat dock for night fishing
Glider swing at the deck at the boat house
Hammock with water views
Large porch facing the water with great lake views and lots of seating
Normally constant level lake for the best in boating, jet skiing and waterskiing
This beautiful, like-new home is in excellent condition
3 bedrooms and 2 baths - can sleep 6 people comfortably
Lots of large windows for viewing the lake from within the house
Satellite TVs with VCR/DVD, and a stereo
Ceiling fans throughout the house
Beautiful, large palm trees
Barbeque grill and a smoker
Washer and dryer for your use
Ceiling fans throughout the house
Central heating and air conditioning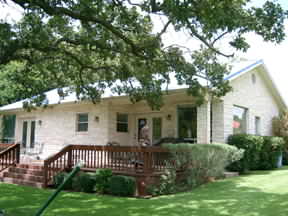 Blue Cove Lake House
Things to Do in the Area:

Boating, waterskiing, jet skiing, fishing, swimming and sunbathing
Go fishing with a local fishing guide
Wine tasting and tours at 3 local wineries
Dine out at local restaurants in the neighboring towns
Shop in the local towns for antiques, gifts, jewelry, clothing and more
Visit art museums and galleries in neighboring towns
Tour Longhorn Caverns
Visit President Johnson's boyhood home in Johnson City
Photograph the water activity, wildlife and scenery
See the latest movies at the Cinema 8 in Marble Falls
Play miniature golf and other games at Rockhopper's in Marble Falls
Play golf at several local golf courses
There are 3 more lakes just a short drive away
For upcoming events - click here

.


Guests Comments:

What a beautiful home away from home! You will never know what a blessing your home has been for us this past week. Our daughter/sister/niece was married this past Saturday and this beautiful house helped us to prepare for and then relax after. We would love to come back when can fully enjoy everything! F.W &S.W. – Harlingen, Texas

Thank you for sharing your beautiful lake house with us! Our family was able to gather together and enjoy fishing, boating, swimming and just spending quality time together. This vacation will definitely be remembered by all!! Thank you!! D.B. & J.B. – Austin, Texas

Had a wonderful time here. Very relaxing. The lake is beautiful. S.B. & J.B. – Crosby, Texas

Our family had a wonderful time. We enjoyed fishing early in the morning and late at night. This is a beautiful place, the boating was great and we loved seeing different animals. G.S. & P.S. – Midland, Texas

Our family had a great adventure while staying here during one of the worst storms Marble Halls had seen in years! You have a beautiful place! C.T. & L.T. – Kingwood, Texas S.A. & L.A. – Baytown, Texas

This was one of the nicest places we've stayed ever! You've really made it feel as if we came home. Thanks for sharing it with others. We even caught great bass. See you next year! The W. Family – Ruidoso, New Mexico

Wonderful, very nice and beautiful inside. What a fun place! We have loved staying here! A great home away from home.

We enjoyed staying here this week. You have a lovely place. The weather was great! Thanks for sharing your place with us!! The G. Family – Huntington Beach, California & Granite Shoals, Texas

Thanks so much for allowing us to enjoy the last few days of summer relaxing and fishing – and even with a full moon! It was wonderful! C.M. - Midland, Texas

We enjoyed staying in your quaint "Blue Cove". The house had everything we needed and the boat dock was great! It was a fun Labor Day weekend! L.K. - Spring, Texas

We enjoyed the stay – Fishing was good: 5# & 3# catfish. You have a great home here. C.G. - Midland, Texas

What an inviting, relaxing home! And how very lucky we were to have such ideal weather. Thanks for making room for our sailboat, too! M.J.M. & C.P. - Austin, Texas

Loved relaxing here at Blue Cove – Will be back! G.D. & R.H. - Austin, Texas

We had a very wonderful and relaxing four days here in your home. All the amenities were a major unexpected plus. We can't wait to come back again and regardless of the weather we had a very memorable vacation. We enjoyed meeting the owner and hope to return soon. Thank you for all your warm welcome and hospitality. Our favorite spot was the hammock by the cove. Loved it. We never thought Texas was so spectacular. The sunset was amazing. J.G. & A.M.A. - Corpus Christi, Texas

What a beautiful place! Very enjoyable. Who would have thought it would sleet! But it is Texas. We enjoyed dying Easter eggs, eating, taking a nap and playing games. No phone. No computer. We plan to schedule again when the weather is HOT! Again we enjoyed relaxing. D.A. & L.A. - Georgetown, Texas

.


Nightly Rental Rates:

Off Season Discounted Rates -October thru March: $250 per night
Regular Seasond Rates - April thru September: $295 per night
Labor Day and Memorial Day Weekends: $325 per night
4th of July Weekends: $350 per night
Cleaning Fee - $85 per stay
Hotel Tax of 13% will apply

Additional Information:
Check in time after 5:00 pm
Check out time before 12:00 noon
Smoking outdoors only - No smoking in the lake house.
We are sorry but we are unable to accommodate pets.
2 night minimum stay
Holiday weekends - 3 night minimum stay.

Maximum allowed is 6 guests at this property. The city of Granite Shoals and Texas Vacation Lodging will enforce this maximum.

Guests wishing for longer stays will receive priority treatment for reservations made far in advance.
"For a truly unforgettable vacation or weekend,
don't miss Blue Cove Lake House"
For More Information
or Reservations:

512-630-5302
---

Web Page by:
Highland Lakes Web Pages, LLC

Website Design © 2017 Highland Lakes Web Pages, LLC